Beethoven@250
SINFONIA TORONTO 
NURHAN ARMAN Conductor
STEPHANE TETREAULT Cellist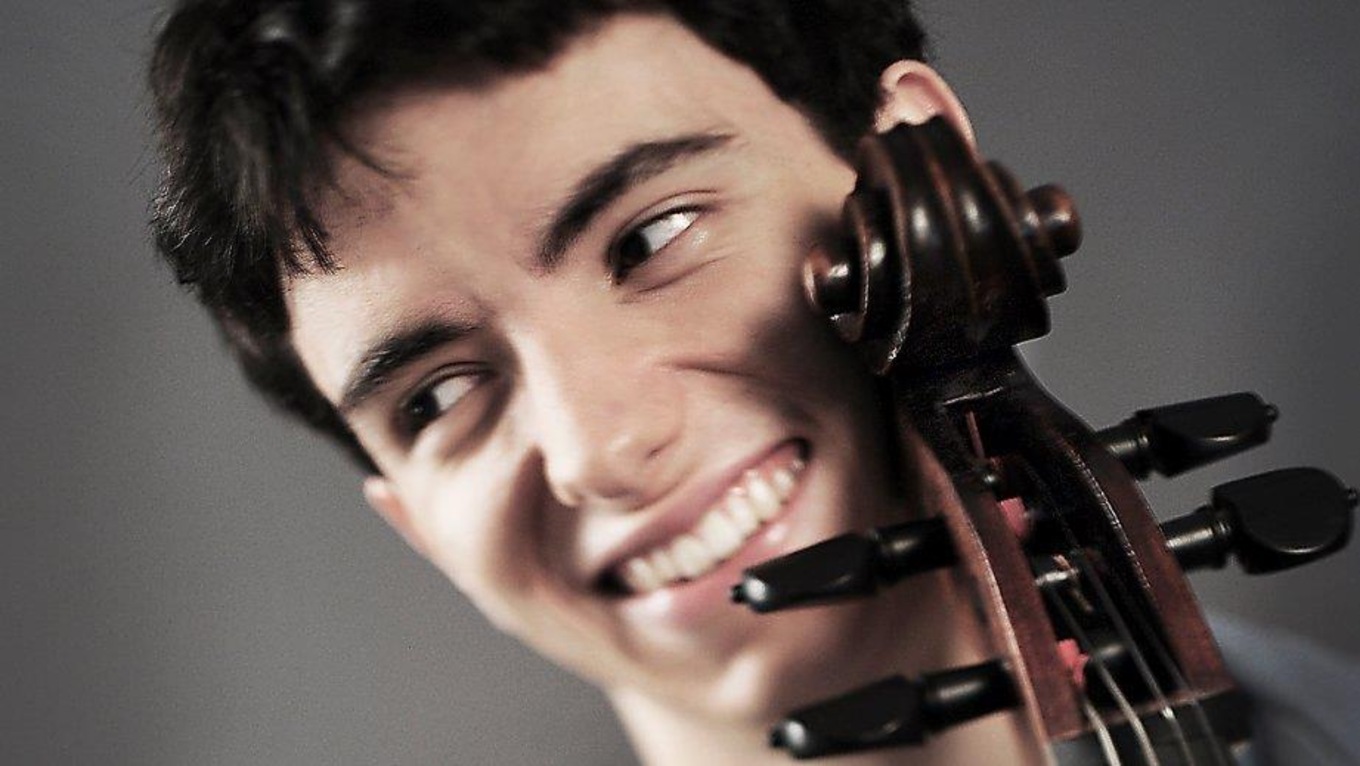 The Program
BEETHOVEN Symphony No. 7 
chamber version by Sigmund Anton Steiner (1773-1838) 
What's interesting about this concert
~ One of Canada's finest cellists
~ Premiere Toronto performances of two masterpieces in stunning new chamber orchestra versions
Senior (60+)ticket: $35
Student ticket: $15
Robert Schumann (1810 - 1856) Cello Concerto in A minor, Op. 129
Chamber version by Markus Horing and Andreas Heinig
Genius and madness are often thought to be related in some way, and the life and music of Robert Schumann is an often quoted example. The combination of Schumann's volatile and unstable personality and extraordinary situations and pressures he found himself in combined to push him over the edge into a complete breakdown, and he ended his life in physical and spiritual isolation in an asylum.
His own nature was very sensitive and unstable, almost schizophrenic, alternating between high enthusiasm and serious depression. And indeed he had faced many obstacles in his life. His parents had made it quite clear they did not want him to be a musician, so he studied law, but also took music lessons without their knowledge. Robert's eldest sister (he was the youngest of the family) had committed suicide when he was only 15, which must have had a devastating effect on a sensitive and imaginative teenager.
But the biggest obstacles Robert faced were in connection with his love for, and eventual marriage to, Clara Wieck, the daughter of his piano teacher Friedrich Wieck. Clara was ten years younger than Robert, and they first met when Clara was only nine. Their relationship grew rapidly, and by the time she was fourteen both Robert and Clara knew they were destined for each other. However, by a combination of her own talent and her father's ambition, Clara was rapidly becoming a brilliant pianist, and Friedrich knew that a relationship with the young composer would damage her career. So he put every conceivable obstacle in their way, and when Robert eventually wanted to marry Clara, he had to take Clara's father to court to force him to agree. Some of Friedrich's statements were so outrageous that Robert took him to court again for slander - and won again. But it must have caused enormous strains on their relationship.
In fact their marriage, based on very deep love, survived quite remarkably. [The end of Schumann's life was appalling - after a severe bout of depression in 1854 he threw himself into the River Rhine, but was fished out by passers-by. He demanded to be sent to an asylum, and eventually a tearful Clara agreed. He stayed there for over two years, and though he wrote to Clara frequently, seemed to have completely forgotten that he loved her. She only saw him briefly once more in 1856 when he was at death's door, starving himself to death.]
In 1850 Robert had accepted the offer of Musical Director of the Dusseldorf Music Society, and he and Clara moved there in the summer of that year. Robert found the situation to his liking - an orchestra and choir on hand to try out his new works - and this stimulated his creativity: he wrote both this cello concerto and his third symphony in the first few months there. He wrote the concerto in the remarkably short time of a few week, in September 1850. The concerto is in Schumann's most flowing, lyrical style, full of grace and beauty. Even in its faster sections the music seems effortless - there is little sense of struggle, and no flamboyant passages for the soloist to show off. In this it is unique among cello concertos (and is perhaps why it is not played as often as it should be).
Sergei Prokofiev: Sinfonia 'Kabardinian'  (String Quartet No. 2 in F major) Op. 92a
In 1941, the Nazis broke their non-aggression pact with the Soviet Union, and as a result, many Soviet artists were evacuated from major cities, Prokofiev among them. He found himself in Nalchik, in the Kabardino-Balkar Republic, just north of the border with Georgia. So the connection is a more distant one, relocation as a result of war rather than a response to it, and this carries over to the music itself.
While there, a government official told Prokofiev to write a quartet on local (Kabardino-Balkar) folk themes.  Prokofiev in his autobiography writes that "The Minister said to us, 'You have a gold mine of untapped folk music in this region. If you take advantage of your stay here to work up this material, you will be laying the foundation of a Kabardinian music.' He went to his files and brought out songs collected by earlier visitors to Nalchik, including several made many years before by the composer Sergei Taneyev [1856-1915, one of Prokofiev's teachers at the Moscow Conservatory] when he had made a study of the music of the Kabardinians and mountain Tartars…
In making use of this borrowed content, the composer was able to maintain his own sound while still writing with unique themes.
The first movement is marked by a spirited step, powerful rhythms and a full-bodied quartet sound, like a deep breath of fresh country air. The themes are readily identifiable in the first movement, as the violin leads the group in a dance-like procession quite free of the kind of dark tumult we've heard in many of the works in this series recently. The melodies are quite standout and easy to latch onto.
The second movement soft and delicate in an almost French way, except with an exotic, foreign spirit, one of the charm of wide open remote untamed spaces. The central passage is almost East Asian in sound, a simple melody over pizzicato accompaniment. The music here is still largely untroubled, but with a bit more tension in the outer, more ethereal sections.
The finale is "based on a lively mountain dance," and perhaps reminds listeners of Bartók, the master of folk melodies. It has the same spirited, rhythmic nature of the first movement, but even more driving and fiery. It's so refreshing to have something like this that's not overcast by shadows of gloom and tragedy. This final movement has some compelling minor key passages, but they're merely enthralling exciting, not tragic or dismal. We've had plenty of that, and there's more to come, but for now, we can take a few deep breaths of fresh country air with the composer, who clearly enjoyed putting these exotic themes to use, and may have been quite pleased to find new inspiration and some time outside the city. It certainly seems like he made the best of the situation.material from the previous movements.

ABOUT THE GUEST ARTIST

Stéphane Tétreault
recently received the 2018 Maureen Forrester Next Generation Award, just the latest in an impressive list of prizes and career-development awards.  
In 2015 he was selected as laureate of the Classe d'Excellence de violoncelle Gautier Capuçon of the Fondation Louis Vuitton and also received a Women's Musical Club of Toronto Career Development Award.  In 2015 he was the very first recipient of the $50,000 Fernand-Lindsay Career Award as well as the Choquette-Symcox Award laureate.  First Prize winner in the 2007 Montreal Symphony Orchestra Competition, in that year he was also named Radio-Canada's "Révélation" classical-music artist, selected as Personality of the Week by La Presse, and awarded the Opus Prize as New Artist of the Year.  For three years, he was included in CBC Radio's list of "30 Hot Canadian classical musicians under 30."
Chosen as the first ever Soloist-in-Residence of Montreal's Orchestre Métropolitain, Stéphane performed alongside Yannick Nézet-Séguin during the 2014-2015 season.  In 2016 he made his debut with the Philadelphia Orchestra under the direction of Maestro Nézet-Séguin and performed at the Gstaad Menuhin Festival in Switzerland.  During the 2017-2018 season, he took part in the Orchestre Métropolitain's first European tour and made his debut with the London Philharmonic Orchestra.
Stéphane has performed with conductors Michael Tilson Thomas, Paul McCreesh, John Storgårds, José-Luis Gomez, James Feddeck and Kensho Watanabe among many others including Maestro Nurhan Arman with Sinfonia Toronto in 2017. 
His debut cd, recorded with the Quebec Symphony Orchestra, was featured as 'Editor's Choice' in the March 2013 issue of Gramophone Magazine.  His second cd, of works by Haydn, Schubert and Brahms, was chosen as Gramophone Magazine's "Critics' Choice 2016" and recognized as one of the best albums of the year.  In 2017, Stéphane partnered with harpist Valérie Milot and violinist Antoine Bareil to record a third album dedicated to trios for violin, cello and harp.
Stéphane was a student of the late Yuli Turovsky for more than 10 years. He holds a master's degree in Music Performance from the University of Montreal, and participated in many masterclasses, notably with cellists Gautier Capuçon and Frans Helmerson.
Stéphane plays the 1707 "Countess of Stainlein, Ex-Paganini" Stradivarius cello, on generous loan from Mrs. Sophie Desmarais.